Terry Naturally Silica-20
20 mg, Plant Sourced Silica
  • Healthy Bone Density
  • Beautiful Hair, Skin, and Nails
  • Optimize Collagen*
Silica is crucial for healthy bones, thick lustrous hair, and strong, flexible joints. But when it comes to supplemental silica, the form you take makes all the difference. Silica-20 provides 20 mg of silica (per serving) gently extracted from horsetail plant (Equisetum arvense) that is harvested at exactly the right time for optimum silica content. This source is one that your body easily and readily utilizes for noticeable benefits.*
The Silica-20 difference:
Silica is a must for healthy bone density—and much more
Boosts bone absorption of calcium up to 50%†
Helps optimize collagen—a critical factor for healthy skin, hair, and joints
Easily utilized, plant-based silica combined with vitamin D3 for even greater benefits*

Strong Healthy Bones Begin with Silica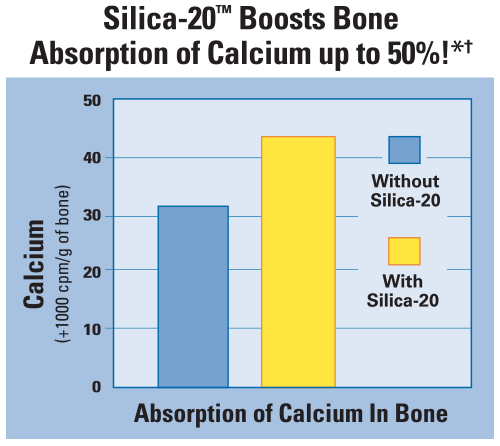 Cutting-edge science has shown that silica is as important, if not more so, than calcium and magnesium for healthy bone density. In fact, bone formation is dependent on adequate silica.*
† In vitro evaluation on cultured human bone.

Item #TN21506 Silica-20 (60ct)
*These statements have not been evaluated by the Food and Drug Administration. This product is not intended to diagnose, treat, cure, or prevent any disease. 
Updated: 02/21/19